Niška pivara, the first industrial company in Niš, was founded back in 1884. It was founded by the industrialist and tenant of the mine, Jovan Apel, according to whose recipe the first beer was made in the Steam Brewery 136 years ago.
Jovan Apel also had a brewery in Aleksinac, with a "cauldron from Šimelbuš" in Vienna.
At that time, the brewery produced 20 thousand hectoliters. The whole area where Apel bought land from the Turks and built the Steam Brewery is today, according to him, called "Apelovac". After his death, in 1907, the brewery was taken over by his sons, Joseph and Hubert.
In 1925, a well-known industrialist, Dr. Geodon Dundjerski, the owner of the brewery in Veliki Bečkerek, took the brewery on a ten-year lease. Beer pouring begins in the Hall of the Hotel "Evropa", at a ceremony with over 300 guests.
Five years later, at the Second National Economic Exhibition in Skopje, "Niška pivara Lazar Dunđerski" was awarded a gold medal. At that time, the offer included "first-class yellow salon and black bok-beer".
In 1935, Dr. Geodon Dundjerski returned the brewery to Jovan Apel, the granddaughter of the founder of the Steam Brewery. That is when the Niška pivara "Apelovac" was created.
In 1946, by the verdict of the Military Court of the Niš Military District, the brewery became state property under the name "Red Star". Four years later, during the great summer heat, there was not enough beer in Niš, so the citizens stood in line for a glass of beer.
In 1957, the brewery "Belgrade" undertook the obligation to make the Niška pivara ready for work. Four years later, the capacity was increased to 25 thousand hetoliters per year. In the next fifteen years, the brewery gradually progressed, increased its production capacity, the number of employees exceeded 100, and in 1970 it reached 100 thousand hectoliters per year. Awards followed – in Geneva, in 1972, "Sindjelić" beer won gold and "Naisus" and "Mediana" beers won silver medals.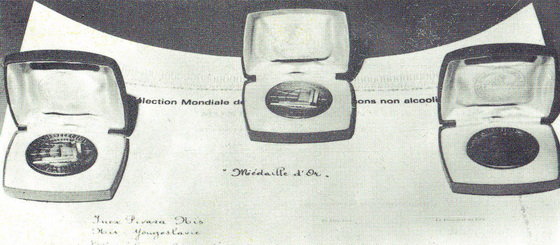 The first of July 2020 is an important date for Niška pivara because a new beer has appeared on the market – "Sindjelić". This light beer, with mild, pleasant bitterness, quickly won over fans of good taste. The new recipe, while respecting the traditional way of production, turned out to be very successful, which is why Niška pivara is today one of the leading brands in southeastern Serbia. Of course, the rich history of this industrial company also contributes to that.